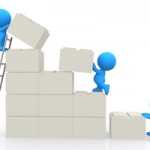 Trying to build good credit from scratch has often become such a challenge that it almost seems like a bad joke. Some individuals find that their lack of a credit history often serves as a basis for being rejected for a new credit card, car loan or home mortgage. Of course, having one or more of these accounts is the best way to build a credit history in the first place.
Fortunately, there are other ways to build your initial credit history, and make it more likely that you'll be approved for credit cards and loans in the future.
Here is some credit card advice to help you build your credit score from scratch.
Pay All Your Bills on Time. It's important that you pay all your bills on time. Your landlord, your cable and utility companies, as well as your cell phone company, may report any late payments to the credit agencies. So while renting an apartment and paying your bills doesn't really involve any extension of credit, your behaviors can influence your ability to obtain credit in the future.
Pay Your Student Loans on Time. It's absolutely essential that you pay all of your student loan debt in accordance with the repayment schedule for each loan. Interestingly, even if you're not deemed credit worthy enough to obtain a credit card, federal agencies and private lenders are often more than willing to extend you many tens of thousands of dollars to finance your higher education. A single late payment on your student loans can be devastating to a credit report that doesn't have much other activity. If you foresee difficulties in repaying your loans on time, contact your lenders as soon as possible to work out an alternate repayment schedule.
Get a Secured Card. A secured charge card is one in which you deposit a certain amount of money with a bank, credit union or other financial institution, and they provide you with a charge card with a limit up to the amount you have on deposit. You're "securing" your future charging activity with that money, so the risk to the financial institution is minimal. This type of card allows you to demonstrate to future lenders that you can manage your charge card purchasing activity, and gives them reassurance that you'll be a reasonable credit risk for a traditional card.
Obtain a Department or "Big Box" Store Credit Card. The criteria for obtaining a store charge card are often much less demanding than those for a bank credit card. This is due in large part to the fact that the credit line will be relatively small and the interest rate may be relatively high. Fortunately, you aren't looking to get this type of card to be able to charge up a large balance. Instead, use a store charge to make occasional purchases and pay your balance off in full every month. This will demonstrate that you are responsible in managing your personal credit.
Finally, make sure to check your credit reports. Even if you don't think there's anything on them yet, you might be surprised. Credit reports often contain inaccurate information, and you don't want that to provide any additional hurdles to you building your credit.
Tags: building credit, credit card advice, credit score, first credit card