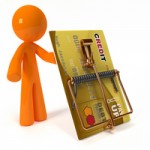 As your student begins his or her new life on campus, they'll need to be much more responsible for their own life as compared to when they were still living at home. Many of these new responsibilities will include taking care of themselves and making sure that they satisfy their academic obligations. But another aspect of this new independence will be financial.
Even students who live in dorms need to be able to manage the financial components of their lives. Since much of adult life involves the use of credit cards (even if it's just for convenience or financial tracking purposes), it's not unreasonable for students to want to use credit card themselves. But getting that first credit card can be difficult.
Here's some advice on how to help a student get their first credit card.
The Credit CARD Act of 2009. Up until just a few years ago, it was very easy (some people might argue it was too easy) for college students to get credit cards for themselves. Credit card companies would set up promotional displays all over campus and give away t-shirts, coolers and other fun items to any student who signed up for a card. Proof of income, or even a demonstrated ability to repay any credit card debt, was generally not a part of the application process. Not surprisingly, many students built up tens of thousands of dollars in debt before they even graduated and found a job. In response to the problems this created, The Credit CARD Act was signed into law in 2009.
Cosigners Now Generally Required. Ever since the Credit CARD Act became law, an individual under the age of 21 must have a co-signer unless they can document that they have their own source of income. This means that if you want to help your student get a credit card, you'll generally need to cosign with them on the application. Keep in mind, though, that the card will be theirs and they'll be able to use it up to the amount of the credit limit. As a co-signer, you'll ultimately be responsible for those debts if they're unable to pay.
Piggybacking. Another way to get a credit card for your student is through a technique known as "piggybacking." Through piggybacking, the student is added to a parent's credit card account as an authorized user. This technique allows the student to help build their own credit score by piggybacking on the good score of their parent. In addition, because the parent is in control of the account, they can monitor what exactly their child is spending money on with the card.
Start Small. Once the student has a line of credit, and is on their way to building their own solid credit history, it's important not to apply for too many cards for themselves too quickly. With a relatively short credit history, applying for multiple cards in a short time span can result in a hit to an already low credit score.
Remember that getting your student a credit card is only the first step. You should also work with them to make sure that they use the card responsibly, so that they don't get themselves (or you) into financial trouble.
Tags: credit card advice, first credit card, student credit card