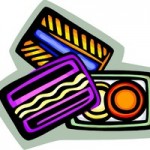 "No payments for twelve months" screams the ad for that great-looking living room you've been eyeing.
If that's the case, you figure, then why not furnish the rest of your home while you're at it? After all, you can enjoy your new furniture for a year without paying a dime.
But before you sign the sales agreement, take a moment to look at the fine print. When you see the interest rate, you may do some screaming of your own.
Rates of 22% and even more are becoming increasingly common in "no money up front" deals. The same holds true with department-store and specialty-store credit cards, which often feature rates much higher than the average VISA or MasterCard account. And even if no payments are due for twelve months, hefty interest charges may be accruing during this time.
If you're not careful you risk slipping right off that nice couch, down into a pile of debt.
Tags: credit card advice, credit card rates, no interest