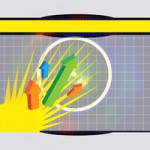 Even if you don't plan on buying a home or car or making any other significant financial purchases in the coming year, it's important to make sure that your credit score is as high as possible.
Improving your credit score can help you save money in the form of lower interest rates on your current credit cards, and help you get approved if you want to apply for new credit cards. Having a better credit score could even help you when applying for a new job, as employers in some industries (as well as certain types of jobs functions in many other industries) make a satisfactory credit check a routine part of the application process.
Here is some credit card advice that everyone can use to help you improve your credit score in 2012.
Get Free Copies of Your Credit Reports. By law you are entitled to request each of the three major consumer reporting companies (Equifax, Experian and TransUnion) to provide you with a free copy of your credit report once per year. This is a great way for you to see exactly what information is on your credit report.
Correct any Inaccurate Information. For a variety of reasons, incorrect information sometimes winds up on your credit report. In many cases this incorrect information will be something negative, which can end up damaging your credit score. It's important that you use your annual review of your credit reports to make sure that any incorrect information can be corrected or removed as soon as possible. You need to take charge of your credit score to make sure that it's as high as it should be.
Don't Open Too Many New Accounts. Your credit score is based on a number of factors, but one of the most significant is how many lines of credit (including the number of credit cards) you have outstanding. Don't open a lot of new accounts without taking the potential negative impact into consideration.
Reduce Your Overall Debt. If you have any outstanding credit card debt, take steps in 2012 to reduce the overall amount you owe. When the ratio of your debt to your available credit is too high, your credit score suffers. By paying down even a small portion of your debt, you'll improve your credit score (perhaps even significantly). Reducing your debt load, particularly on high interest credit cards, will also help your ability to accomplish your other financial goals as well.
Don't Make Any Late Payments. Even a single late payment, late by only a few days, can damage your credit score. If you don't currently do so, set up automatic recurring payments so that your bills will be paid automatically from your checking account. Stay on top of all your accounts so that you don't make any late payments.
A common theme throughout this advice is that it's important that you take charge of your finances in order to help boost your credit score. By being proactive you'll improve your score and potentially save yourself thousands of dollars in borrowing costs in the future.
Tags: credit card advice, credit score, improve credit score