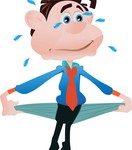 With online banking and bill pay services, it's become easier than ever to pay bills without having to write a single check or address a single envelope. But sometimes this convenience has a downside. Some people have gotten out of the once common ritual of sitting down at the kitchen table, checkbook in hand, to pay the monthly bills – and this can lead to missing a payment.
Missing any bill payment is a bad thing, of course, but missing a credit card payment can be especially problematic. A single missed payment could result in your credit card interest rate being increased, late fees being assessed on your account and the late payment reported to credit agencies (which can lower your credit score).
Here's some information and advice for how to handle a missed credit card payment.
Call Your Credit Card Company. The worst way to handle the missing credit card payment is simply to ignore it. If you call your credit card company and explain the situation as soon as you realize what's happened then you may be able to avoid one or all of the penalties.
Consider Changing Your Spending Habits. If you missed a credit card payment because you didn't have enough money to pay the bill, then you should immediately figure out how you can change your spending habits to ensure that there are no late payments in the future. Depending on why you didn't have enough money (a significant one time expense breaking your budget is different than being short of cash or missing your budget every single month), you might also wish to discuss this with your credit card company. If the missed credit card payment is a symptom of a significant problem, for example, then you'll want to try to work with your credit card company to come up with a payment plan for your account balance.
Identify Why You Missed the Payment. The most important thing to learn from missing a credit card payment is identifying whatever made you miss a payment in the first place. Perhaps you put all your bills in a pile on your desk, and go through them whenever you have time. If you've missed a credit card payment then your current system has failed and you need to implement a new system.
Don't Let it Happen Again. Set up a new system for paying your credit card (and perhaps your other bills as well) to avoid any late payments in the future. This might include setting up automatic minimum payments from your checking account, or perhaps e-mail reminders for you to pay the bills on time. It might even be as simple as setting up an online payment from your checking account on the very day you receive the bill (even if you schedule the payment date for two or three weeks in the future).
Credit cards can provide a significant level of convenience in today's society, and in some respects they're practically a necessity. But missing payments on your credit cards could lead to the accounts being closed, and significant damage to your credit score, so make sure to handle any missed payments appropriately.
Tags: credit card advice, credit card payment, missing credit card payment