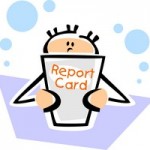 Your credit report is one of the most important documents when it comes to your financial identity. Any time you apply for a credit card, a car loan, a home mortgage, or even when you apply for certain types of jobs, someone will use your credit report as a significant factor in making their decision.
Unfortunately, credit reports sometimes include mistakes or outdated information. The only way to make sure that this information doesn't stay on your credit report, and therefore doesn't factor into any decision that could cost you money, is to stay on top of your own report and make sure it's always accurate.
Here's some credit card advice about when it's appropriate to get a copy of your credit report.
Six Months Prior to a Home Loan Application. A home mortgage will almost certainly be the biggest debt you'll voluntarily take on throughout your entire life. Given the size of the average home loan, even a slight difference in the applicable interest rate or other loan terms can make a difference of tens of thousands of dollars in repayment obligations over the course of the loan, or perhaps even more. Review your various credit reports before applying for a home loan in order to see if there are any errors to be corrected, or any other items that could negatively impact your application.
After You've Been Denied Credit. If you've been denied for a home mortgage, or any other type of consumer credit, then the company that denied your application must inform you which credit reporting company's report they used in reaching their decision. You may then request a free copy of that report from the reporting company by making reference to that rejection. You should use this opportunity to determine what might have led to the rejection, and to formulate a plan for improving your credit standing.
After Becoming a Victim of Identity Theft. Unfortunately, identity theft continues to be a growing problem in the United States. If you become a victim of identity theft, you'll want to make sure to review your credit report frequently, to make sure that no additional lines of credit are being opened in your name by the identity thief.
Once a Year For Free. Even if none of the above situations apply to you, you should still take a look at your credit report at least once per year. Federal law requires that each of the major credit reporting agencies (Equifax, TransUnion and Experian) provide you with a free copy of your credit report once per year, upon your request. Note that they won't automatically send you a copy of your report; you need to request it yourself. You can go to AnnualCreditReport.com (the only official source for getting your free annual reports from each of the three agencies) to begin the process.
But the situations above are certainly not the only the only times where you might want to request a copy of your credit report. The more you know about the records that affect your financial health, the better.
Tags: annual credit report, credit card advice, credit report, free credit report