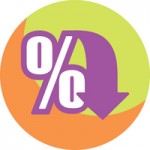 While an increasing number of consumers are working to pay off their credit cards, it might take time for some to fully achieve it. Even someone who normally pays off their credit card each month could be hit with an unexpected expense that they'll have to charge and which will take some time to completely pay off.
As you're working to pay off your credit card balance, it's important to make sure you're paying the lowest possible interest rate. Depending on your balance, and how long you carry it, getting your interest rate reduced by even a couple percentage points could save you hundreds of dollars.
Here is some credit card advice on ways to get your credit card interest rate lowered.
Ask Your Credit Card Company. Believe it or not, the simplest and most direct approach might be the most effective. If you have a good repayment history with your credit card company – particularly over the past year or two – then call and ask them to lower your rate. Many times they will agree to do so. If possible, do a little research before you call so that you have some idea of the range of interest rates your company offers; it might be unreasonable for you to expect your rate to be lowered to a level that your company simply doesn't offer any of its customers.
Threaten to Close Your Account. You might wish to consider closing your account if your credit card company won't provide you with a lower rate. Telling your current company that you are considering taking your business elsewhere can be a particularly effective tactic if you've been a good customer for them in the past.
Initiate a Balance Transfer to Another Existing Account. If your credit card company is not willing to lower your interest rate, and you are unwilling or unable to close your account because your balance is too high, consider transferring all or part of that balance to another one of your credit cards – one that has a lower interest rate. Depending on your balance, how many other cards you have, and their respective interest rates, you might need to allocate the transferred balance across multiple cards.
Apply for a New Account With a Balance Transfer. If you can't transfer your balance to other of your existing cards, consider applying for a new credit card account – one that has a preferable balance transfer option. Many credit card companies will offer six months or even a year of 0% interest on any balance you transfer into a new credit card account.
Getting a lower interest rate on your credit card can save you a significant amount of money in the long run. But your credit card company isn't likely to lower your rate unless you ask.
Tags: balance transfer, credit card advice, lower credit card interest rate