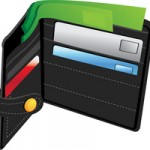 For most of us, our credit cards are an important part of managing our overall finances. Provided that we don't change our buying habits and purchase on credit unnecessarily, using credit cards can save us the hassle of using cash or checks. In addition, receiving a monthly statement from the credit card company makes it easy to review all the purchases you made in the prior month (and know what to adjust if you're not meeting your budget).
But credit cards need to be protected. Credit card fraud remains a significant problem, and even if the anti-fraud protections reduce our financial exposure, the hassle and aggravation of fraudulent activity on our accounts can still be significant.
Here is some information and advice on ways to protect your credit card.
Keep Your Credit Cards With You. Make sure you always know exactly where your credit cards are at all times. When you are out and about, make sure to keep your purse or wallet or knapsack with you constantly. Don't leave your bag in your car, even if it's parked in a well lit and secure parking area. If you have more than one credit card (it's likely you do), don't take them all with you everywhere you go. Most people use just one or two cards for the vast majority of their purchasing, so only carry your primary card with you as a general practice. Leave the department store charge cards at home unless you know you're going to be going to those stores to shop.
Keep Your Contact Information Current. Make sure your contact information with the credit card company is always up-to-date. If the credit card company can't immediately reach you when it notices suspicious activity on your account, then it could take longer to correct the problem (and get you a replacement card).
Know How to Contact Your Credit Card Company. Make sure you have the customer service telephone numbers for your credit cards handy. If you lose your wallet or purse, obviously you won't be able to get the telephone number of your credit card company from the back of the card. Instead, keep the telephone number for each company programmed into your cell phone or written on a piece of paper that you keep in your car's glove compartment. That way, if your cards are lost or stolen, you'll be able to contact your credit card company quick. Don't write down the credit card numbers along with the telephone numbers (it'll put you at risk if that piece of paper is misplaced); your company will be able to find your account by using your name, Social Security number and other information.
Review Your Statements. Take a few minutes each month to review your credit card statement in order to verify that every single charge (even the charges for a dollar or two) is accurate.
Even though your financial liability for unauthorized activity on your credit card account is relatively small, having your card stolen can still cause you a great deal of aggravation. Take these steps to protect your credit card and you'll have the best chance of avoiding that aggravation.
Tags: credit card advice, protect credit card, unauthorized charge